Case Study Summary Of Pfizer Inc.--2009
Kajigal
/




Case Details:

Price:

Case Code
:
BSTR342
For delivery in electronic format: Rs. 300;
For delivery through courier (within India): Rs. 300 + Rs. 25 for Shipping & Handling Charges

Themes

Mergers and Acquisitions
Case Length
:
19 Pages
Period
:
2008-09
Pub Date
:
2009
Teaching Note
:
Not Available
Organization
:
Pfizer Incorporated, Wyeth
Industry
:
Pharmaceuticals
Countries
:
US
Abstract:
| | |
| --- | --- |
| In January 2009, the US based Pfizer; the world's largest pharmaceutical company announced that it would acquire Wyeth, another leading pharmaceutical company based in the US, by paying US$ 68 billion in stock and cash. Lipitor, the world's best selling drug, developed by Pfizer would loose its patent protection in 2011. Lipitor contributed over 26% to Pfizer's revenues in 2008. However, with the patent expiry nearing and no probable block busters in pipeline, Pfizer faced risk of loosing huge part of its revenues once Lipitor is available for generic competition. Pfizer strategy to expand its product line and diversify its sources of revenue led it to acquire Wyeth. | |
Wyeth, on other hand, had patent expiry issues around the same time as Pfizer had. However, Wyeth had significant presence in bio-pharmaceuticals where Pfizer was lagging behind considerably. Bio-pharmaceuticals were expected to be growth engines in future and major pharma companies had started research in that area. The case examines the synergies and challenges for Pfizer after its acquisition of Wyeth.
Issues:

» Evaluating the growth strategy adopted by Pfizer over the decades.
» Examining the benefits to Wyeth from the acquisition deal.
» Understanding the synergies and challenges arising out of Pfizer's acquisition of Wyeth.
» Analyzing the deal between Pfizer and Wyeth quantitatively and qualitatively.
» Appreciating the importance of intellectual property in knowledge based industries.
» Understanding the dynamics of the US pharmaceutical industry.
Contents:
Keywords:
Pfizer, Wyeth, Merger, Acquisition, Biopharmaceutical Company, Cash-and-stock transaction, Lipitor, Effexor, Protonix, Clinical Trials, Blockbuster Drugs, Celebrex, Warner Lambert, Pharmacia Corporation, Biopharmaceuticals, Biological Drugs, Biotechnology, Generic Drugs, Patents, Product Overlaps, Merger Integration, Patent Protection, Patent Expiration, Subprime Crisis
Pfizer's Acquisition of Wyeth- Next Page>>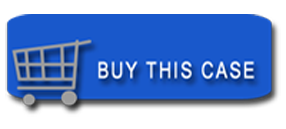 ---
Custom Search
---
On 09/07/2001, I bought an initial block of 100 shares of Pfizer (NYSE:PFE), a large pharmaceutical company. It was one of the first individual stocks I ever bought after decades of mutual fund ownership. I was attracted to what I believed was a reasonable price, an impressive earnings record, high profits from blockbuster drugs, the pharmaceutical industry's growth, and PFE's impressively growing dividend.
In the previous decade, the dividend rate had quadrupled and the 25-year dividend growth rate was over 13.5 percent. But in late 2001, PFE resembled a growth stock as much as a dividend stock, yielding only 1.4 percent.
After that first purchase, the price of PFE began to drop. Since I was convinced of the long-term viability of the company, I ignored the paper loss of my original shares and "doubled down" by purchasing more shares in a contrarian move. I ultimately acquired 600 more shares according to this purchase history:
Date / Shares / Price Per Share
09/07/2001 / 100 / $37.50
08/05/2002 / 100 / $34.00
09/05/2002 / 100 / $31.25
09/13/2002 / 100 / $29.75
02/05/2003 / 100 / $29.75
10/15/2004 / 100 / $29.00
12/17/2004 / 100 / $23.52
I believe the market's PFE concern centered on the looming loss of patent protection for blockbuster drugs such as Lipitor and Viagra. However, I had faith in Pfizer's new drug development pipeline and management's ability to compensate for lost revenues.
The total purchase of 700 shares had an average price of $30.68, more than 18 percent lower than the initial purchase price of $37.50. The last purchase for $23.52 represented a discount of more than 37 percent below the first purchase. The seven block purchases constituted what some call an "average-down" action, which requires a strong conviction about a stock's quality in the face of negative market sentiment. Investors doing this must believe in this concept: If a stock is good enough to purchase at one price, it is certainly good enough to purchase again at a lower price.
That kind of mindset requires discipline. Many investors inherently dislike a shrinking stock price, particularly just after purchasing a stock. Conversely, when the price goes up, most people are happy. But for some, when the price goes down, they see a buying opportunity. The investor must determine that the market's rationale for a sinking price will ultimately be overcome by management actions and/or market recognition that the perceived problems are surmountable and/or not serious. I believe this is the classic "contrarian" or "value" approach to investing.
This brings to mind the famous Warren Buffett quote: " Be fearful when others are greedy and greedy when others are fearful."
The DRIP Approach to Dividends
Since Pfizer paid a dividend, the first quarterly dividend was a grand total of $13, based on the first 100 shares owned. But, after I accumulated 400 more shares and Pfizer raised its dividend rate, the payout in September 2003 reached $75. I did not reinvest the first seven quarterly dividends into more shares. Instead, I retained the cash in my E*TRADE account for use elsewhere.
After two years, I changed my approach. During that time, I favored stocks with growing dividends, but I began learning about dividend reinvestment. After taking cash for the first seven quarterly PFE dividends, I activated E*TRADE's dividend reinvestment program (DRIP). It remains activated. Since then, every PFE quarterly dividend payment has funded additional shares.
E*TRADE charges no transaction fee for DRIP acquisitions of more shares. This feature enables small quarterly increases in share count without any frictional costs.
Over time, the 700 shares and DRIP compounding of share count, coupled with PFE dividend rate increases, provided a quarterly dividend of $273.50 in March 2009. I was very pleased with the dividend growth. In the five years ending that month, the payout more than doubled by increasing at 15 percent compound annual growth rate (CAGR). I became a committed dividend growth investor who greatly appreciated DRIP's compounding power at no cost.
The Bottom Falls Out
After the March 2009 record-high dividend, I was surprised, disappointed and concerned to see Pfizer cut the next dividend rate in half, from $0.32 to $0.16 per share per quarter. The cut drove down my next dividend payout in June 2009 to $140.43. In addition, the years 2007 through 2009 saw Pfizer's share price "fall through the floor".
The Financial Crisis was at its depth in 2009, but in reality, I don't believe Pfizer cut the dividend due to the poor economy or that the Crisis directly triggered the cut. In researching what happened, I learned that Pfizer was making a huge acquisition of Wyeth, a 149-year old pharmaceutical giant. A description of that transaction available here:
On January 23, 2009, The Wall Street Journal reported that Pfizer was in talks to buy Wyeth at a cost of US$68 billion. On January 25, Pfizer agreed to the purchase, a deal financed with cash, shares and loans. The deal was completed on October 15, 2009.
The bottom line is that Pfizer needed cash to pay for the huge acquisition. Some of that cash came from a 50 percent reduction in the dividend rate.
By implementing an "unthinkable" dividend cut, Pfizer used the extra cash to facilitate a strategic purchase. During the 2009 Financial Crisis, PFE dramatically dropped (like many stocks) to the $12-$13 range. This aggravated Pfizer's ability to acquire Wyeth using Pfizer stock and resulted in a huge 60 percent "paper loss" from my $30.68 average purchase price. Pfizer was only one aspect of how badly the crisis impacted me personally, including loss of employment at age 64.
I swallowed my disappointment and became convinced that I should hold on and continue with DRIP. One reason was that, despite the 50 percent dividend rate cut, a much lower share price allowed share accumulation at a very nice clip. Since then, DRIP has added new PFE shares every quarter to the tune of 8-12 shares.
A "Loser" Stock-Price Performance
As of market close on 12/09/2016, PFE price was $31.70, which is only 3.3 percent higher than my $30.68 average purchase price of 700 shares. Therefore, considering only the share price, that small gain spread over more than a decade is a horrible result. PFE price only grew by 0.27 percent CAGR above my average price during the 12-year time since December 2004. Based on price alone, this is no way to accumulate a reasonably growing nest egg, especially considering inflation.
The following chart, taken alone, depicts a very sad story. Over the 15-year span since late 2001, Pfizer's share price has struggled to (not quite) break even. Fortunately however, due to the seven 100-share purchases (the "average-down" action), my average purchase price of $30.68 is lower than both the initial purchase price of $37.50 and the 12/09/2016 market price of $31.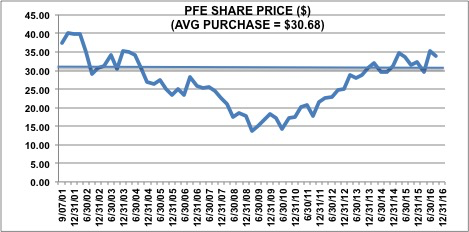 However, a focus on share price alone ignores one very significant factor: dividends.
A Dramatic Dividend Rate Cut
Pfizer's dividend rate performance is not what a dividend growth investor wants to see. A rising dividend rate lasting over several decades gives much more confidence in a company's commitment to dividends. Pfizer upheld that impressive record from the early 1970s until 2009. But despite Pfizer's disappointing dividend cut, my investment has still grown total dividend income substantially. I believe Pfizer did what it had to do to compensate for blockbuster drug patent expirations - acquire Wyeth.
The following chart depicts the setback suffered by Pfizer dividend investors in June 2009: a 50 percent dividend rate cut. There was a small warning for observant investors -- the March 2009 rate was the fifth quarter at $0.32. This was the first year since 1973 that Pfizer had not raised its rate after four quarterly payouts. No investor wants to see this happen to a dividend growth holding.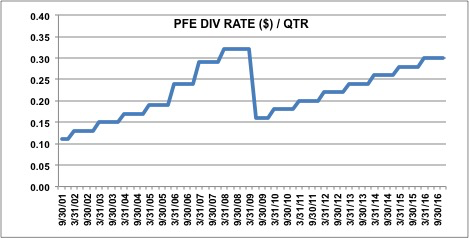 I fully understand that many dividend investors would immediately sell a holding like Pfizer that cut the dividend in half. I know I considered it, but I'm not sure why I did not. At this point over seven years later, I'm really glad I kept holding. I think I concluded the dividend cut, while disappointing, was somewhat justified. The rationale is that the cut raised cash for an important acquisition, rather than a bailout for a poorly run company. I also decided not to sell because I would have incurred a huge capital loss (at the time, PFE price was about $15) as well as termination of all future dividends.
These numbers reflect the underlying dividend experience with Pfizer. In 2002, the PFE dividend rate was $0.13 per share per quarter. Just before the 50 percent dividend cut in 2009, the rate was $0.32 per share per quarter. After the cut, it went down to $0.16. It then began to steadily rise. Today it stands at $0.30, which is still slightly below where it was in early 2009 before the cut.
Note: Recently Pfizer announced the quarterly dividend rate for 2017: a 6.7 percent increase from $0.30 to $0.32. The 2017 rate will finally reach the former peak rate that existed right before the 50 percent cut in 2009!
Share Count Growth Never Stopped
Due to DRIP, my Pfizer share count never stopped rising, despite the 50 percent dividend rate cut. And the depressed prices boosted the count. As of 12/09/2016, the share count has exceeded 1,170 shares versus the original purchase of 700 shares. This represents a share count gain of 67 percent.
I view the extra 470 shares gained from dividends as "free" (no new capital required). Others might not view it this way, because the dividends could have been used to purchase other stock(s), which might have performed better (or worse). My thought was that DRIP was making an excellent buy at the depressed PFE price. And purchase of other stocks would have meant a lengthy delay of at least 1-2 years to accumulate adequate cash for a purchase.
DRIP buys small incremental share counts every quarter with zero transaction fees - a thing of beauty. The dividend cash is put to work with no delay and "dollar cost averages" the share prices. Since the last 100-share purchase in December 2004, share count has compounded at a 4.2 percent CAGR.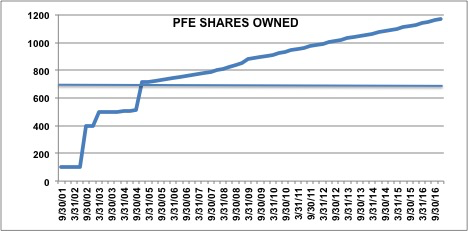 Market Value
The total original purchase cost for 700 shares was $21,614.89, including total transaction fees of $137.89. Today, E*TRADE commissions are less than one-half the price in 2001, when I started the Pfizer acquisition sequence. Internet brokerages have made trading much cheaper.
So, how has the total PFE investment performed? From a stock price aspect, it has performed terribly. Due to the "average-down" acquisition, the holding started with an average price of $30.68, but is now only slightly higher than that. With over a decade of inflation, the effective current price is much lower than the average purchase price.
However, the 1170-share Pfizer holding now has a substantially higher value than the acquisition cost basis:
$37,104.03 market value on 12/09/2016
(-)$21,614.89 acquisition cost basis, including transaction fees
------------
$15,489.14 total gain
The bulk of the gain is due to the 470 additional shares made possible by DRIP. Compare that market value with the value of the original 700 shares on 12/09/2016:
700 shares
x 31.70 12/09/2016 share price
-----------
$22,190.00 hypothetical value of original 700 shares
The following chart reveals how the market value of the Pfizer holding continued to rise over time, despite the poor share price performance and dividend rate cut during the Financial Crisis and Great Recession of the 2008-2011 period. Market value substantially dipped below the total cost basis of $21,614.89. However, rising PFE share price and the additional shares bought with DRIP mitigated and boosted this result significantly. The 12/09/2016 value is 72 percent higher than the cost basis.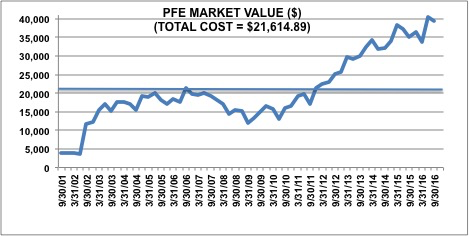 Quarterly Dividend Payout
As you might suspect, I focus more on income growth than capital gain. For some dividend growth investors, capital gain borders on undesirable or at least a non-subject. In fact, a capital loss (on paper) means DRIP acquires more shares as opposed to a capital gain (on paper).
Today, the growing dividends from 1,170 shares are paying me almost $1,400 per year, which I still reinvest with DRIP. At any time, I could chose to deactivate DRIP and use the dividends as income, cash build-up, or other stock purchases instead of buying more PFE shares. The PFE quarterly dividend payout history is shown here: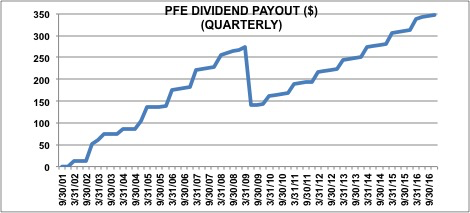 The compounding action of dividend rate increases and dividend reinvestment ultimately provided a respectable and growing income. Also, PFE's depressed share price boosted share count growth, leading to higher dividend payouts.
Since the dividend rate cut in 2009, the dividend payout has grown at a 12.9 percent CAGR. Without DRIP, this number would be around 8.7 percent. This respectable growth rate encourages me that Pfizer's management is committed to shareholders. I have a growing income snowball with PFE.
Total Cumulative Dividends
Total cumulative dividends provide insight into the importance of what appears to be relatively small quarterly payments. The following chart documents the total dividends paid to me over the life of the Pfizer investment. The total dividends are now climbing at an increasing rate (steeper slope). Pfizer's dividends mitigated (and took advantage of) the depressed PFE stock price and built income and wealth in a modestly impressive manner. This chart graphically reveals the compounding and dollar cost averaging power of a dividend stock "buy and hold" approach coupled with dividend reinvestment.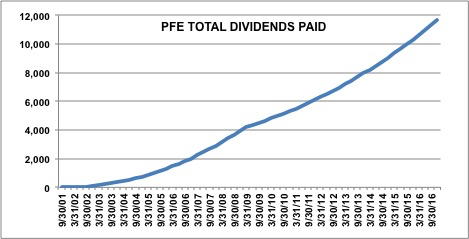 Pfizer has paid me a total of $11,666.79 in dividends over the 15-year life of the investment. Those payments represent a 54 percent return of my original cost basis. Considering my PFE holding suffered through the Financial Crisis and Great Recession, I think it has turned out reasonably well. The experience has reinforced my commitment to dividend growth investing and compounding with dividend reinvestment.
Current PFE dividend yield is 3.9 percent. Life could be worse. I intend to keep PFE.
Key takeaway lessons:
Buy only high-quality companies with long-track records of dividend growth.
With patent expirations, pharmaceutical risks resemble high-tech companies.
Don't be afraid to "average-down" if market knocks down a stock you just bought.
Dividends can grow market value (or reduce losses) despite depressed prices.
Dividends of high-quality companies are more predictable than stock prices.
Reinvest simply by activating DRIP and watch every dividend exceed previous.
DRIP helps share count grow regardless of dividend rates or prices, low or high.
DRIP is an effective form of dollar cost averaging. DRIP works automatically, requiring no effort and no cost after setup.
Compounding with DRIP requires time; the earlier an investor starts, the better.
Depressed prices directly benefit DRIP by boosting share count and dividends.
Measure performance based on income and asset value growth, not just price.
Sleep easier at night knowing dividend growth mitigates market price noise.
Disclosure:I am/we are long PFE.
I wrote this article myself, and it expresses my own opinions. I am not receiving compensation for it (other than from Seeking Alpha). I have no business relationship with any company whose stock is mentioned in this article.